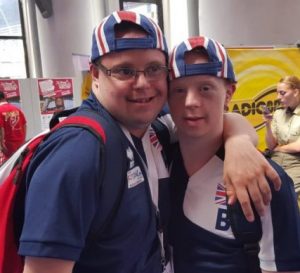 Dear swimmers and families
Many of you will be aware that DSISO-GB (Down Syndrome International Swimming Organisation GB) and DSS-GB (Down Syndrome Swimming – GB) have been working together to ensure that all swimmers with Down Syndrome within Great Britain are best represented and supported to swim at National, European and International levels.
To this end the following has been agreed:
The organisation presently known as DSISO-GB, will move forward supporting swimmers with DS at grass roots level.  Kim Marshall, DSISO-GB Trustee will be the contact for these events and you may contact him at [email protected]
A link will be provided on the DSS-GB website with contact details and information regarding future DSISO-GB swim events.  All GB swimmers with DS are eligible to swim at these DSISO-GB events.
DSISO-GB have withdrawn their membership of DSISO and will be winding down their existing organisation, creating a new Trust with a new name, by the end of 2017.
The organisation presently known as DSS-GB have been formally recognised by DSISO (the umbrella organisation for swimmers with Down Syndrome worldwide) as the organisation to represent GB swimmers with Down Syndrome at European and International Level.
There are minimum qualifying standards required to join DSS-GB (based on swim times).  Please contact Membership Secretary for further information [email protected]
The qualifying standards for European and International events may be found on the DSISO website http://www.dsiso.org/events/
DSS-GB will now complete their Charitable Status application.  There will be no change of name.
Please do visit the DSS-GB website for further information, including GB Training camps and forthcoming Down syndrome specific events.  http://www.dss-gb.org/
---
Help us continue to support Down Syndrome Swimmers