Click on name for more detail

Caitlin Trevor (DOB – 22 April 2003. United States of America)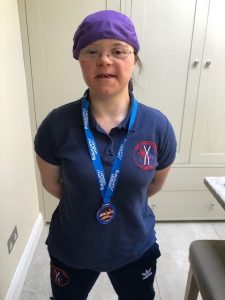 A dual national, Caitlin divides her time between Kingston upon Thames, London, UK and Wilmington, Delaware, USA.

Caitlin joined the Kingston Royals in February 2017 after not being very keen to swim as a young child. Becoming a better swimmer formed part of her Bronze Duke of Edinburgh Award. She now swims 5 days a week plus extra training sessions at the London Disability Swimming Club and the Electric Eels in Windsor. Caitlin first represented the United States in Kosovo winning a Gold Medal in Breast Stroke and two bronze medals. She then represented the USA at the DSISO World Championships in Truro, Canada in July 2018. In October 2018, Caitlin was awarded the Disability Sports Achiever Award by Kingston Borough. As a junior swimmer, she currently holds Junior SC & LC Americas records, plus Open Americas records.


Caitlin attends school full time and enjoys music, working toward her Silver Duke of Edinburgh award, performing with her drama group, Lamda classes and horse riding. A recent highlight was having her photo broadcast in NYC's Times Square by the USA's National Down's Syndrome Society/NDSS. Caitlin is an enthusiastic Harry Potter fan! Becoming a swimmer and achieving success has been tremendous.
Joey Jurries (DOB – August 20, 2002. Arbor Vitae, Wisconsin)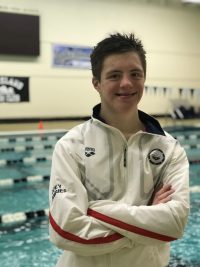 Joey competes for the Lakeland Loons Swim Club, the Northern Lakes Aquatic Club, Lakeland Union High School, and the USA Down Syndrome Swim Team. Joey participated in the World Champs held in Truro, Nova Scotia, Canada in 2018 where he broke 2 American Junior records.