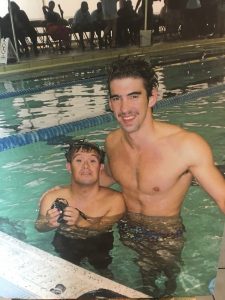 ANDY MIYARES –  Florida, USA.   9th June 1983.
Andy has accomplished the unimaginable.   He started swimming at 9 months old because he could not hold his head up.  At the age of 6 he joined USA Swimming and has never left the pool since then!   In 2002 he set his first American Record in the 50m butterfly.
In 2006 Andy participated in the 3rd World DSISO Championships in Limerick, Ireland where he set a 1500m Freestyle world record for short course  –  which he held until 2016.   He also held the world record for this event for long course.
Andy still holds many American records and is now setting records in the Master 2 (M2 – 35+)) age group.  He presently holds a number of world records in the M2 category.
Andy received the an induction to the Hall of Fame of Special Olympics, Florida, for his contribution in advocating  and speaking all over the world as a Special Olympics Global Messenger.
His hero is Michael Phelps.  He wants to have a girlfriend and get married.   He will now continue to swim and break Master 2 records.   He will also continue to coach younger swimmers in order for them to reach their dreams.