VOTE FOR JONATHAN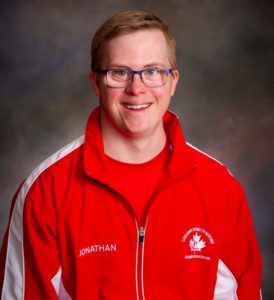 Jonathan Henry is part of the DSISO Canadian swimming team.   He has participated in a number of DSISO events.   In 2018 the 9th Down Syndrome World Championships took place in Truro, Nova Scotia, Canada.
Not only does Jonathan compete in the swimming pool, he is also involved in the sport of Curling.
Curl Canada is currently running a contest – "Curling as an Inclusive Sport".   Peter, Jonathan's dad, submitted his story.  His story focuses on inclusion and celebrates athletes with Down syndrome.  Jonathan is the only contestant featuring a person with an intellectual disability.    Since parents want to have their children in an inclusive world, we need to be their advocates.    We need to get the word out.   Last year Jonathan was recognized as a member of a community's Sports Wall of Fame as an athlete in the sport of swimming.   Now the Curling story is another journey in his world of sport.
From hundreds of applications, Jonathan has made the top 12.   It is now down to who gets the most votes by 28th February 2021. He is presently approximately 200 votes behind the leader.  It would be great if the DSISO fraternity support him.       Link for voting   –     https://curlingdayincanada.ca/curling-as-an-inclusive-sport/?fbclid=IwAR2MBTlW3UZiOvTmdFsECVSJITPZhV4DzNCc2I2wW-6SJ_1vFUDbsz-hCqQ
---
Help us continue to support Down Syndrome Swimmers