America
Click on name for more detail
Maggie Scherder – Peoria, Illinois, USA (August 2002)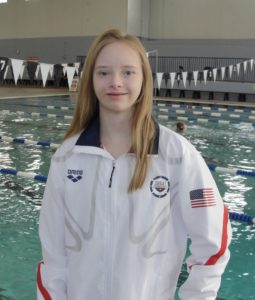 Maggie started swimming at age 9 with the Heart of Illinois Special Recreation Assoc Swim Team (HISRA) who participates at Special Olympics Illinois.  While she has competed in soccer and dance, she seemed to be a natural in the water.  Her favorite races to swim at a meet are those where she is a part of a relay. Maggie swam several years for Peoria YMCA Swimming and currently swims for Peoria Area Water Wizards (PAWW) and Dunlap High School Girls Swim Team.
Joining the USA DSS team in 2018 at the 9th DSISO World Champions in Truro, Canada, Maggie finished the meet with 2 bronze podium finishes and set 5 Junior Americas SCM records.  When she returned from Canada and started her sophomore high school swim season, her teammates nominated her for a local award – Central Illinois Proud Extra Effort Award – https://www.centralillinoisproud.com/sports/local-sports/dunlap-sophomore-swimming-in-praise/
In 2019, Maggie traveled to Sardinia, Italy and competed at the 5th European Open Swimming Championship LCM meet.  She made the finals in all 7 of her individual events with 5 podium finishes which included 3 gold.  Maggie set 2 World and 4 Americas individual records and was part of 4 relay teams that set Americas Records.
Joey Jurries (DOB – August 20, 2002. Arbor Vitae, Wisconsin)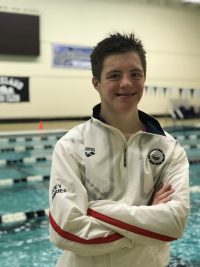 Joey is a varsity swimmer on the Lakeland Union High School Boys swim team in the Great Northern Conference. Outside of his high
school season Joey trains with the Lakeland Loons Swim Club, competes on USA Swim's Northern Lake Aquatics swim team and in 2018 Joey had his international debut swimming for the USA Down Syndrome Swim Team.  In July 2018, Joey participated in the DSISO World Championships in Truro, Nova Scotia, Canada where he broke (and still holds) 2 American Junior SCM records (25 Back, 50 Back) and came home with a Junior Division Gold Medal in the 25 Back and Junior Division Bronze Medals in the 25 Back and 25 Free.  During the summer of 2019, while competing in USA Swim sanctioned events,  Joey broke 8 Junior American Region LCM records (100 Free, 200 Free, 400 Free, 50 Back, 100 Back, 200 Back, 50 Fly, 200 IM).
In September 2019, Joey competed at DSISO's Open European Swim
Championships where he swam an American Open Senior LCM record in the 200 Free Relay (with teammates Joe Suter, Luke Drumright, Glenn Donovan) and 8 American Region Senior Individual LCM records (50 Free, 100 Free, 200 Free, 400 Free, 50 Back, 100 Back, 50 Fly, 100 Fly).  Joey has great support from T-Bird Nation, his hometown swim community where he trains a minimum of 5 days a week.  He is coached by Chris and Robert Garcia and their belief in Joey has propelled his talent to be a competitive
international athlete.
In addition to swimming Joey attends high school where he is a very
social young man . Joey loves going to high school football, hockey and
basketball games and the school's musical productions.  Joey loves to
mountain bike, usher at Church on Sundays and enjoys working in our
community through his high school supported WINGS Program.  Joey is a
member of the  LUHS Pep and Concert Band.  He loves to play the drums or
anything percussion.
Caitlin Trevor (DOB – 22 April 2003. United States of America)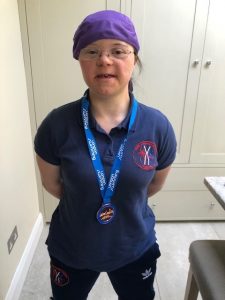 A dual national, Caitlin divides her time between Kingston upon Thames, London, UK and Wilmington, Delaware, USA.
Caitlin joined the Kingston Royals in February 2017 after not being very keen to swim as a young child. Becoming a better swimmer formed part of her Bronze Duke of Edinburgh Award. She now swims 5 days a week plus extra training sessions at the London Disability Swimming Club and the Electric Eels in Windsor. Caitlin first represented the United States in Kosovo winning a Gold Medal in Breast Stroke and two bronze medals. She then represented the USA at the DSISO World Championships in Truro, Canada in July 2018. In October 2018, Caitlin was awarded the Disability Sports Achiever Award by Kingston Borough. As a junior swimmer, she currently holds Junior SC & LC Americas records, plus Open Americas records.
Caitlin attends school full time and enjoys music, working toward her Silver Duke of Edinburgh award, performing with her drama group, Lamda classes and horse riding. A recent highlight was having her photo broadcast in NYC's Times Square by the USA's National Down's Syndrome Society/NDSS. Caitlin is an enthusiastic Harry Potter fan! Becoming a swimmer and achieving success has been tremendous.