Asia
AKIHIRO MABUCHI  –  GIFU, JAPAN  –  14th September 1993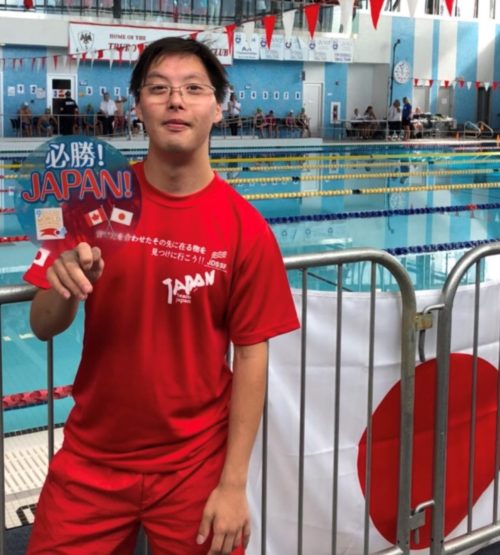 I joined in a swimming club when I was 11 years old.  I'm having training with my team for 3-4 days every week.  I love swimming.    I have many times participated swim meets (Long Course and Short Course) with the Japan Swimming Association with Intellectual Disability.  I participated in the DSISO World Championships three times in Taiwan, Loano (Italy) and Canada and hold Asian Short Course records.
I'm working for a printing company.    And my job is to make boxes.    I am proud of my job and l work really hard for it.
I watch movies and listen to music on my day off.   I am a big fan of Japanese rock band "Mr.Children."    I watch their concert videos and sing their songs at my house.   I also go to their concerts.    The music of "Mr.Children" always encourage me to challenge new things and a source of my energy.
AYAKO  MORISHITA  –   TOKYO, JAPAN  –  28th March 1997
When I was a child, I liked playing with water.     I joined the swimming club when I was 7 and I have been taking swimming lessons in the club.
I participated in the DSISO World Swimming Championships for the first time when I was 13, and it was held in Taiwan.   Next, I participated in the Loano, Florence and Truro championships.
I work five days a week at a cafe of the Hosei University Tama Campus.
I love to sing and dance while watching YouTube, and I enjoy playing  Japanese drums with my friends once a week.
JUN KUME  –  EHIME, JAPAN  –  5th December 1988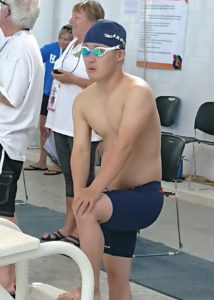 I live in Matsuyama City, Ehime Prefecture, well known for hot spring Dogo Onsen.
I had surgery at the age of one for a heart disease.    And for health I have been swimming from the time of kindergarten.   I am good at butterfly, and my 50m butterfly best time is 32 seconds.
I have participated in 4 times the DSISO World swimming championship held in Taiwan, Loano, Florence, and Canada.
I have seven Asia records at the T21 Asian open short course in butterfly, free, breaststroke and individual medley.  I have also six Asian records at the T21 Asian open long course in butterfly, free, breaststroke.
Besides swimming, I also like to hip hop dance on stage.
My job is growing mushrooms and vegetables.    I feel very happy with my colleagues at work.
I am also good at baseball and video games.     I am a fan of baseball team "the Yomiuri Giants" and love animation "Dragon Ball."
KAITO MURAI  –  TOKYO, JAPAN  –  19th July 1997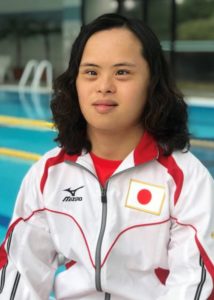 Kaito's goal is to win a gold medal in the world swimming championship for Down syndrome.
He started his swimming when he was 11, training at "Mimi Swimming Club" twice a week and he recently added extra workouts at 50m pool 4 times a week to pursue his goal.
His first participated the DSISO World Championships in 2016 in Florence.    In 2018 DSISO Canada Championships he got great results that were the new Asian record, in three categories which were 100m 50m backstroke and 200m medley relay.
Living in Meguro-ku with a seven-years younger brother, mother and father. His hobby is to write, enjoy music and watch movies.   He also is dreaming to become an actor one day.
KOJI OKURA  –  OSAKA, JAPAN  –  23rd November 1974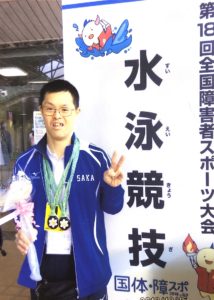 When Koji was around ten years old, the chance came to get a start of swimming.  He has two brothers, one is 2 years older and the other one is 3 years younger had already joined in the higher class of Itoman Swimming Club at that time. Their coach said to Koji "Have a try to swim!" He had often caught a cold before that but he has gotten better and strong through the swimming.
He is now able to swim in four styles, and to participate in a competition.   When he was 27 years old, he participated as a representative of Osaka City in Japan Disabled Sports Competition.
He has already experienced seven competitions until now. His first participation is the 4th World Down Syndrome Swimming championship in Portugal. He had participated the DSISO 4 times after that.    He holds a number of long and short course records.
He is now very happy to have many friends in many countries.
He has two hours training after work three times a week.
His job is cleaning and light work at a golf club from Monday to Friday.
His best  pleasure is to play with his nephews and nieces at his home.
He will do his best to stay healthy through swimming from now on.